Nanda Devi East Base Camp Trekking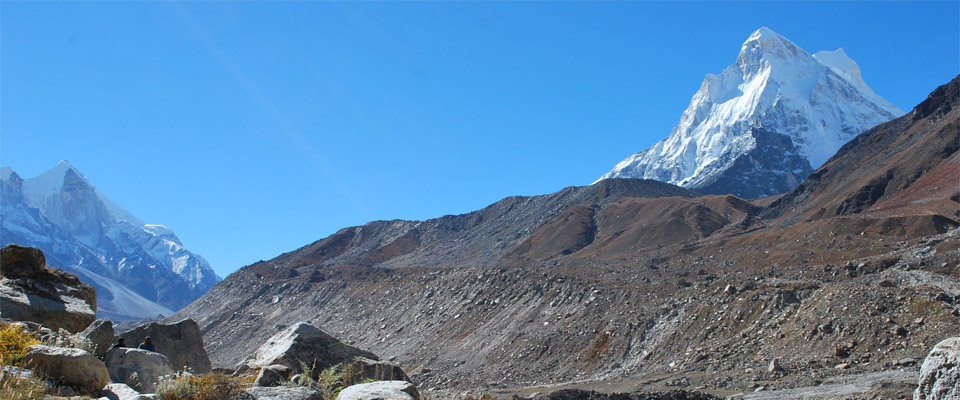 10 Best Treks With

Garhwal Himalayan Explorations
(Quality Adventure Trips Since 1989)


Home of many mountain ranges including the highest mountain range Himalayas, India offers great opportunity to trek & explore some of the remotest mountain area giving you a chance to have close encounter & witness different life styles, settlement patterns, jewellery , different food & food styles & above all to give you some of rarest moments of life captured in your cameras. Garhwal Himalayan Explorations, one of the leading trekking company based in Rishikesh India takes you to 10 of the best treks in different parts of India and to different mountain ranges. Come & explore.........
Culture, Nature & Adventure -- Trek 2023
Itinerary - Nanda Devi East Base Camp Tre
The Himalayan region of Kumaon is a store house of natural beauty beyond belief. Protected from the onslaught of the outside world, the Himalayan ecology remains well conserved here, making the region a great retreat for the lovers of nature. The trek to Nanda Devi East Base and the Milam Glacier is amongst the best of treks in this region, taking you through some of the remotest areas with breathtaking panorama. Finally reaching the Base camp, one is awed by the splendor of the majestic Mt. Nanda Devi East (highest mountain after Nanda Devi of India) which stands tall dwarfing everything in the vicinity.
Day 00- Take the overnight train from Delhi for Kathgodam.
Day 1 :: Arrival Kathgodam-Kausani
(1895m): Early in the morning arrival Kathgodam, On arrival meet to assistance drive 150 km. to Kaushani, on arrival check in hotel rest of the time free, Dinner and overnight at hotel.
DAY 02: KAUSANI-ALMORA - MUNSIYARI (2300m)
From here drive to Munsiyari via Almora. This will take about 6hrs hrs. Overnight in a hotel
DAY 03: MUNSIYARI - DARKOT - LILAM (1850m, Trek /3-4 hrs)
From Darkot we start the descent to the Gori Ganga river. We continue descending until we reach the River at Jimighat. This is the lowest point of the trail and from here we start climbing to Lilam. Overnight in tents
DAY 04: LILAM - BUGDIAR (2430m, Trek /5-6 hrs)
Today we start trekking towards Bugdiar. After walking approximately 5 kms we cross the confluence of Ralam River and Gori Ganga. Continuing further we reach a small meadow with a side stream and a small tea point. After tea we continue further finally reaching the meadow of Bugdiar. Shepherds with their flocks of sheep and goats are a common sight. Overnight in tents
DAY 05: BUGDIAR - RAILKOT - MARTOLI (3430m, Trek/5-6 hrs
) Continue trekking along the Gori Ganga through a series of narrow gorges. The trail is really beautiful, passing through gorges and meadows leading to Railkot. Further continuing on a well distinguished trail is the village Martoli situated at the edge of Luan Gad Valley. Overnight in tents DAY 06: MARTOLI - MILAM (3450m, Trek /4-5 hrs)
From Martoli we descend to a bridge over the Lwani Gad. Continuing further we cross the main bridge over the Gori Ganga. Now the trail goes on to the left bank and a short climb brings us to Burphu Village (3350 m). Here the valley starts to open up and the scenery is spectacular with views of several peaks. Trekking further we will reach Milam village. This is the last major settlement before Tibet. Overnight in tents
DAY 07: MILAM - MILAM GLACIER - MILAM (Trek 6-8 /3-4 hrs)
After breakfast trek towards the Glacier. Visit the Glacier and the magnificent peaks i.e. Rishi Pahar (6692 m), Hardeol (7151 m) and Trishuli 1 (7074 m) and many more. Later return to Milam village. Overnight in tents
DAY 08: MILAM - CAMP (LWANI) (3500m, Trek /4-5 hrs)
Descend towards Lwani. Campsite is opposite to the settlements of Lwani. Overnight in tents
DAY 09: CAMP (LWANI) - NANDA DEVI EAST BASE CAMP (4150m, Trek /5-6 hrs)
Start trekking towards base camp following the Lwani valley. The trail which passes through a series of moraine fields and famous meadows of SartolKharak (3650 m) and Naspanpatti (3850 m) finally leads to the Nanda Devi East base camp which is a plethora of delightful meadows. Overnight in tents
DAY 10: BASE CAMP
Rest & relaxation day
DAY 11: BASE CAMP - TOWARDS NANDA DEVI EAST FACE - BASE CAMP (4150m, Trek /3-4 hrs)
Today we trek about 3 odd kms towards southeast of the Nanda Devi East. Explore the terrain and return back in the afternoon. This is the route leading to Trails Pass that links the upper Lwani valley with the Pindari valley. Overnight in tents
DAY 12: BASE CAMP - MARTOLI (3430m, Trek /5-6 hrs)
DAY 13: MARTOLI - RAILKOT - BUGDIAR (2430m, Trek /5-6 hrs)
DAY 14: BUGDIAR - LILAM (1850m, Trek /4-5 hrs)
DAY 15: LILAM - MUNSIYARI (2300m Trek/4-5 hrs)
Overnight in Munsiyari in a guesthouse/hotel.
DAY 16: MUNSIYARI - KATHGODAM
(Drive/300 kms/8-9 hrs) - DELHI Early morning drive from Munsiyari towards Kathgodam to board Ranikhet Express at 2040 hrs.
Day 17. Arrive Delhi
- Tour Terminates upon arrival in Delhi.
The package costs are inclusive of :
1. Twin sharing accommodation as per the ity.
2. All meals hygienically cooked and served by our specially trained staff for westerners.
3. Transportation from Rishikesh to Rishikesh by Toyota jeeps
4. Services of professional trekking guide, cook & camp staff during the trip.
5. Camping equipment on trek e.g. tents, Mattresses, Sleeping bags etc.
6. Portage of personal rucksack on the trek .
7. Trekking permits & camping fees on the trek .
8. Portage of camping equipment, food, kitchen equipment on trek
. 9. All tourist taxes on the trip.
10. Visit to all the place as per the itinerary.
The Package costs Do Not Include:
1. Items of personal nature e.g table drinks, telephone, insurance, medical services, evacuation and services in landslides & unforeseen circumstances.
2. Riding ponies on the trek.
3. Services other than specified above.
The Package costs are
:
1. Subject to government service tax which is at present 5%
2. Nett& non commissionable.
3. Valid for trekking season of 2017 from March to November.
Package Tariff –
The above package tariff is for standard option. You can also opt for deluxe option with better transport, accommodation, meal options & highly professional staff on the trip. Please let us know.
Food on the trek:
We emphasize on clean and hygienic meal s on the trek. Breakfast & Dinner are full hot meals. Lunches are picnic lunches as we driving or trekking that time.
Water on the trek
: we carry ample of bottled water in the jeep which can be used for the driving days. For the trek we use boiled stream water, which is equally good or some time better.
Your accommodation in Rishikesh before & after the trek:
We have our own best located guest house in Rishikesh , which you can use before and after the main trek. Please visit us to get the details www.highbank.in
Your Travel to Rishikesh
- As we have a fleet of cars & jeeps, we shall be happy to provide you pickups from Delhi & Dehradun Airport. We shall also help you arrange you flight or train tickets from Delhi to Haridwar& Dehradun.